Districts
Saginaw Char
ter Township consists of approximately 26 square miles of residential, commercial, and agricultural land. Approximately 40,000 people live here.
The Township, for policing purposes, is divided into three patrol areas, the East, North, and South Districts. Officers are assigned to work one district for up to a year at a time under the Forward to Basics community policing plan. Officers are responsible on a daily basis for many different types of problems in their districts. These range from criminal activity to quality of life issues. Because officers are in the same district daily, they are better able to identify, address, and resolve many problems that occur.
Ongoing problems are also passed on to the investigations unit for assistance when needed. Detectives are also assigned to districts like the patrol officers. Together, they work on more difficult problems for resolution.
Saginaw Township residents, after determining which district they live in, may go to the respective page for their district, and find out about ongoing problems, criminal activity, etc.
The Saginaw Township Police Department assigns uniformed patrol officers to three districts. Each district is also assigned a Crime Prevention Officer (CPO) and at least one detective for case investigations.
East District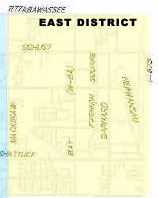 (Shaded Yellow) The EAST District is bounded by I-675, Tittabawassee, Mackinaw, and Weiss.
The CPO for the East is Officer Christopher Fredenburg. The Detective assigned to most case investigations for the East District is Detective Mindy Worden.
North District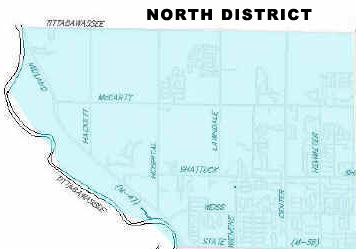 (Shaded Blue) The NORTH district is bounded by Mackinaw, Tittabawassee, The Tittabawassee River, and State.
The CPO for the north district is CPO Randy Schroeder. The Detective assigned to most case investigations for the North District is Detective
Scott Jackson.

South District


(Shaded Pink) The SOUTH district is bounded by State, The Tittabawassee River, to a line one block west of Superior running north to Passolt, then north to State.
The South district CPO is Adam Nothelfer. The Detective assigned to most case investigations for the South District is Detective Justin Severs.